USNA Parent Fundraising Opportunities
Our club is 100% self-funded. Our fundraiser helps us support our Midshipmen and serve as a North Carolina sponsor family to all incoming visiting Mids.
The North Carolina USNA Parent's Club is proud to offer a special-order cooler for Navy families and Midshipmen! Coolers are blue with yellow embroidery. Logo and personalization is placed on the front pocket. The logo can also be personalized to include the Midshipman's name and graduation year.
Cooler features front zippered pockets, 2 mesh side pockets, a top insulated compartment, and holds up to 30 cans in the main compartment. Coolers are made of 600D polyester with a PVA lining and have a retractable auto-lock handle.
Below is the link to order one of our personalized Navy coolers. Complete the form and send along payment of $65.00 plus NC sales tax and USPS shipping of $18.00 so that we may process your order. Your support of our Cooler Fundraiser is much appreciated! You can pay online or with a personal check and send this along to: the attention of Greer Mendelow.  Her address is 7132 Seton House Lane, Charlotte, NC 28277.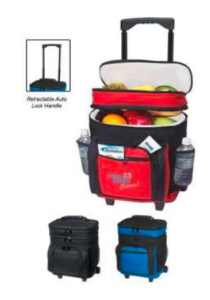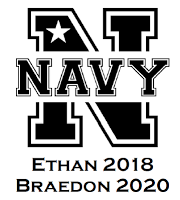 Download Cooler Fundraiser Order Form Here
$65.00 NC USNA Custom Cooler
+ $4.39 NC Tax
+ $18.00 shipping
= TOTAL $87.39